Benefits, performance and efficiency
Babaçu is the generic name given to oil palm trees belonging to the family Palmaceae and members of the genera Attalea and Orbignya. The babaçu coconut palm reaches between 10-30 meters in height and can reach full production after 15 years. The fruits produced are extremely appreciated throughout Brazil, both by wildlife and by humans. The fruits give in bunches, on average 3 to 5 per crop, with 300 to 500 cocos each.
The collection of the fruits takes place in a natural way, without harming the environment or damaging the tree. In the time of maturation, the ripe fruits begin to fall on the ground. A common and sustainable type of management involves the concentration, in degraded or low density areas, as of palm trees from seedling of productive palm trees, with the separation of their mature, good quality coconuts, to be spread throughout the area in question.
From this collection, the coconuts should be opened for the removal of the almonds. The most traditional form is the breaking of the fruit, carried out by women from the producing regions, called babaçu coconut breakers (literal translation of Portuguese), in the fields themselves, called babaçuals (literal translation of Portuguese).
The social organization of coconut breakers has become a differential factor for the continuity of extractive production, since this characterizes a source of income in places with difficult access to other sources. In addition, the land and babaçu are considered resources of common use, encouraging family agriculture and the sustainable management of this resource, as an accessory to other activities, such as livestock and other plantations.

Figure 1. Babaçu coconut breaker, in the state of Maranhão.
Another great interesting aspect to encourage the use of babassu oil, in relation to sustainability and generation of opportunities in its production, is the full use of its fruits and leaves. Its leaves are used in the roofing frame for home; the fibers of the leaves are used to produce handicraft products.
Regarding the fruit, the outer layer of the coconut, called the epicarp, is fibrous, being able to compose organic fertilizers, upholstery of car seats, vases, and even replace styrofoam in packages. The mesocarp just below, rich in starch, is very interesting for the food industry, while the endocarp can be used instead of firewood as fuel.
But the greatest wealth of babassu is in its almond, which has a very distinctive oil, rich in properties and with great value of origin. Babassu oil is widely used in producing regions for both food and therapeutic purposes, as anti-inflammatory, vermifuge, for the treatment of myiasis, ringworm, skin wounds, spider bites.
In the cosmetic industry, this oil is also desired; besides possessing a very pleasant fragrance and being easily compatible with other oily actives, babaçu oil is a lauric source, fatty acid generally found in higher concentration in vegetable butters. The chemical composition of babaçu oil is similar to palm kernel oil, with the great advantage of being produced in a sustainable way, besides being also more nutritious and emollient.
In its composition it still can be highlight the myristic, palmitic and oleic acids. The oil is also a natural source of tocopherols, also known as vitamin E, major liposoluble antioxidants in plasma and tissue membrane. Babaçu oil is very stable at high temperatures, with a low melting point, and high saponification index making it very suitable for replacing fats of animal origin.
Table 1. Formulations used for the effectiveness test of babaçu oil as an active for treatment and maintenance of oily hair.
It is important to note that lauric acid also has antimicrobial action. Thus the cosmetic industry uses babaçu oil not only for dry and rough skin but for oily and inflamed skin with atopic dermatitis and itching. Not only in the skin, the babaçu oil exhibits this performance, but also in the hair and scalp, being indicated for the revitalization of fragile hair and treatment for oily hair, as it does not weigh on the hair and allows alignment and reduction of frizz.
In a half-head test with volunteers, babaçu oil showed excellent results when applied in a cleaning shampoo without conditioning agents. The volunteers reported that they were satisfied with the performance of the product, in relation to the sensory, both wet and dry.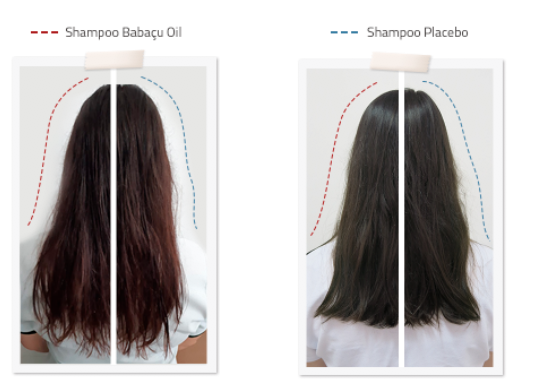 Figure 2. Half head test with babaçu oil in a shampoo for oily and weak hair.
All this performance is achieved because the crude oil of babaçu maintains all the characteristics naturally found in the fruit. Citróleo Group, internationally recognized for providing natural and sustainable solutions to the cosmetics market, provides unrefined babaçu oil, with applications ranging from moisturizing, emollient, to the production of surfactants and natural emulsifier.
Citróleo's babaçu oil has origin value: from the coconut breakers to the shelves around the world, the vegetal active guarantees efficacy and sensorial, aesthetic and dermatological benefits, essential for the success of the final cosmetic. But, above all, it also carries invaluable knowledge, popular culture, and sustainable production, which no synthetic is capable of replacing.
References
ARAÚJO, V. F. et al., Plantas da Amazônia para Produção Cosmética. Universidade de Brasília ‐ UnB, 2007.
CARRAZZA, L. R. et al., Manual Tecnológico de Aproveitamento Integral do Fruto e da Folha do Babaçu, 2ª edição, Brasília – DF, 2012 ISPN.
GOUVEIA, V. M. O mercado de amêndoas de babaçu no estado do Maranhão. Publicação: PPGEFL. TD – 056/2015, Tese de Doutorado, Universidade de Brasília ‐ UnB, 2015.